In my previous post, I said that I had made a mistake on the layout of Peyton's dance portrait. Hmm, can't remember exactly what paper the pink background is, but it has embossed rainbows on it. And because the portrait album is an OLD Creative Memories album, it's not EXACTLY 12 x 12, but rather 11 1/2 x 12. So, I trimmed it up. Yep, I even trimmed off the correct side. However, when I adhered the photo to the paper? Yep! NOT THINKING. So then I had to trim another 1/2 inch off the other side of the paper. Grrrr. Like I said, it's done, in the album, and back on the shelf. No one will probably look at it for years to come. LOL
Shhhh... don't tell Peyton... I started her boyfriend album today. I'd like to thank whomever sent me the beautiful K & Co 6 x 6 album years ago. I knew it would come in handy one day! :-D It's the perfect size for the photo and the name, and the facing page is journaling about how they met, and how we, the parents, felt about them, etc. Caitlyn's little album is about half filled after just two years of being a teenager. LOL Here's the first page in Peyton's album...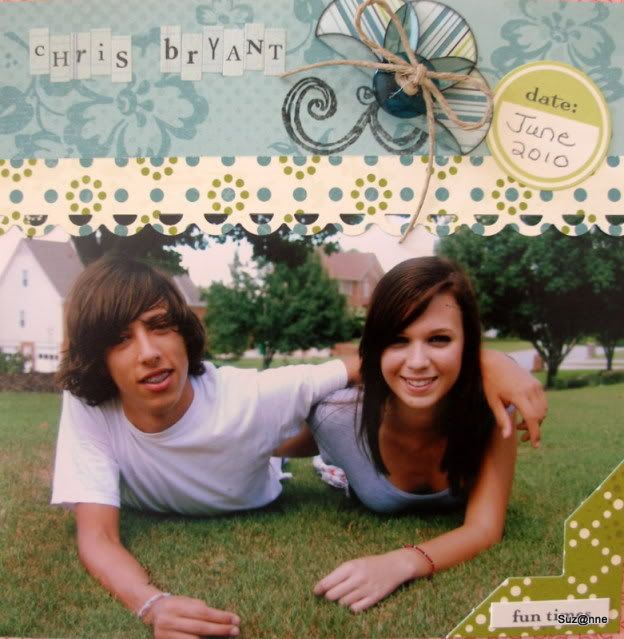 And I decided that it wasn't fair to Ethan that the girls all have recipe albums and he doesn't. After all, he and girlfriend/fiancee/whateveryouwannacallher have to eat, so, why not? Here's the title page for their album...
All of the kids have the same poem by Joy Harjo on their title pages. If you can't read it, I'll put the text in my next update.
Thanks for stopping by and happy scrapping! :-)