I was supposed to drive to GA to spend the weekend with Stace, but she is sick, sick, sick! Poor thing, hope you feel better soon, my friend! We will reschedule soon. I WAS going to wait to update until after I got back and show you all the cool stuff she taught me to do, but I guess I'll share my regular old creations with you. :-) I still haven't sat down long enough to figure out Photobucket, so we'll see what happens here. LOL
I really liked this photo and wanted it to be pretty. I'm happy with how it turned out. I cut the flowers from a really old piece of Basic Grey paper and the background is Fancy Pants.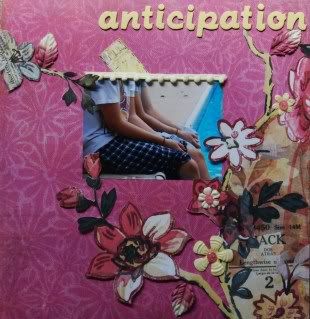 Another layout of Caitlyn and her boyfriend. It's kinda blurry, but the title says "Whoo Loves You" and the journaling says that they plan on getting engaged in 4 years. :rolling eyes: Can you sense my skepticism? :-D The paper is K & Co.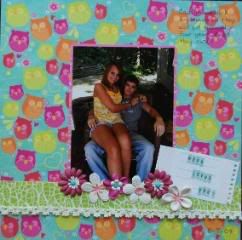 And last but not least is a layout of Megan. She came home a couple of weeks ago and we had the best time visiting. :-) I doubt if you'll be able to see (depends on Photobucket! LOL) but I put different colored bling on the rub on border to the left of the photo. The paper is Sassafrass Lass.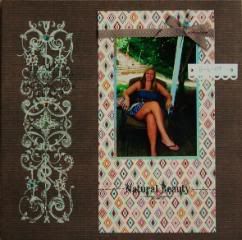 Unless something spectacular happens (and it might! ;-) ) I will see you on September 1st with the new calendar page. Yes! September! Thanks for visiting! :-)